HAPPENINGS
---
CHRISTMAS FEST IN BIRCHWOOD -- DEC 3
Christmas Fest will be held at various places in downtown Birchwood on Saturday, Dec 3, from 10 am - 3 pm. Trinity Lutheran will be hosting some of the vendors in the Fellowship Hall and the Women of Trinity will be selling chili, cornbread, chips and bars during the event. Come join us!
MIDWEEK ADVENT MEALS AND SERVICES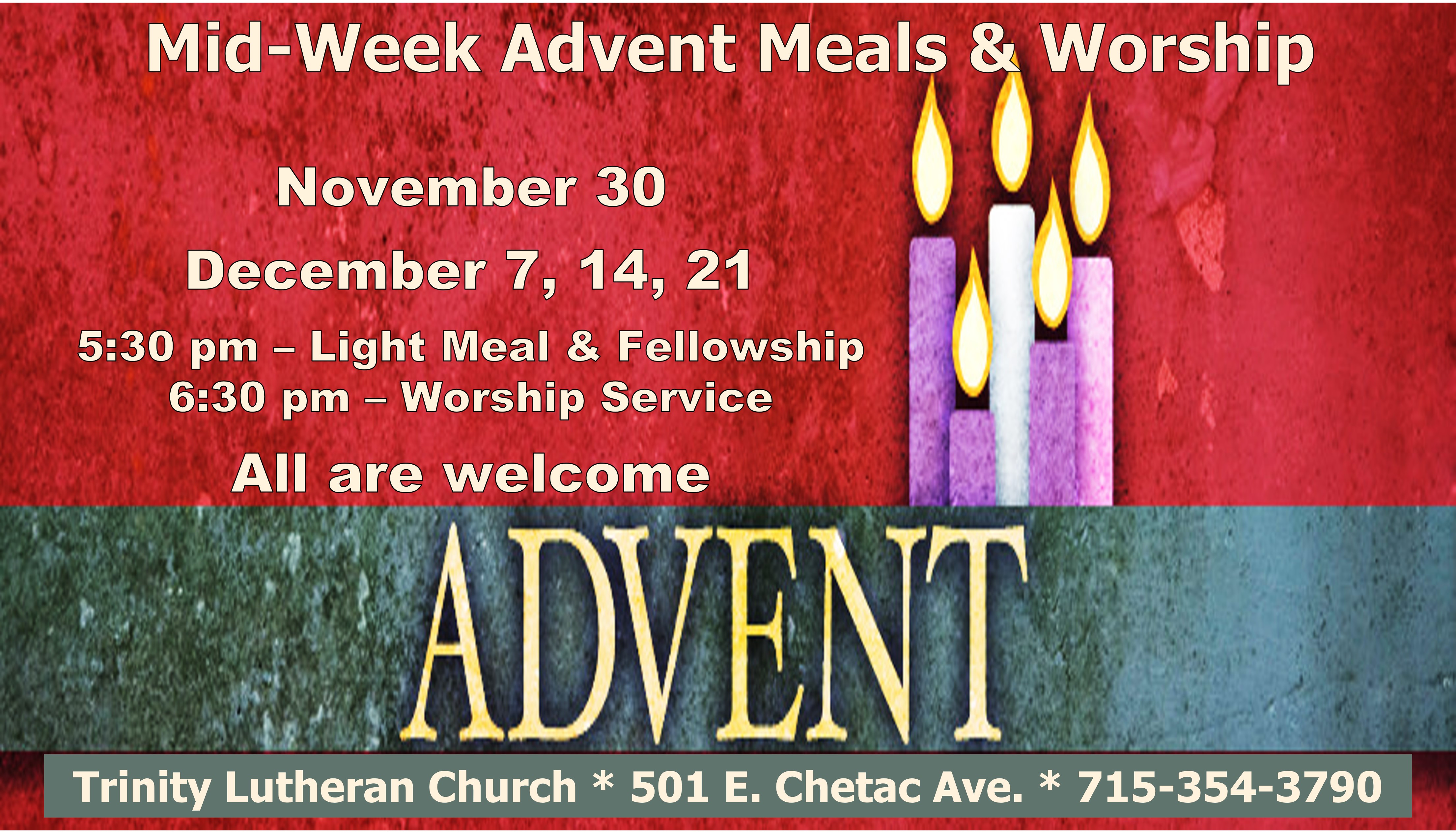 Advent starts on November 27, with Midweek Advent meals and worship services beginning on Wednesday, November 30. The simple suppers are at 5:30 pm and the service starts at 6:30 pm. Come join us for fellowship, breaking of bread, and worship.
ADOPT-A-FAMILY
The Adopt-A-Family Christmas Tree will soon be in the church Narthex, adorned with paper ornament tags for gifts for needy families in the Birchwood area. The tags will have a child's gender, age and their wished-for present. Each family has the same shaped ornament. The tags are very IMPORTANT, as it is the only way to keep track of who gets what gift. The family's presents are brought to the school and then the parents are able to replace our tags with their own.
Take a tag (or two!), shop and return the gift-wrapped presents (with the tag taped on them) to Trinity NO LATER THAN Sunday, December 18.
CHRISTMAS CANTATA AND BAKE SALE -- DEC 11
The T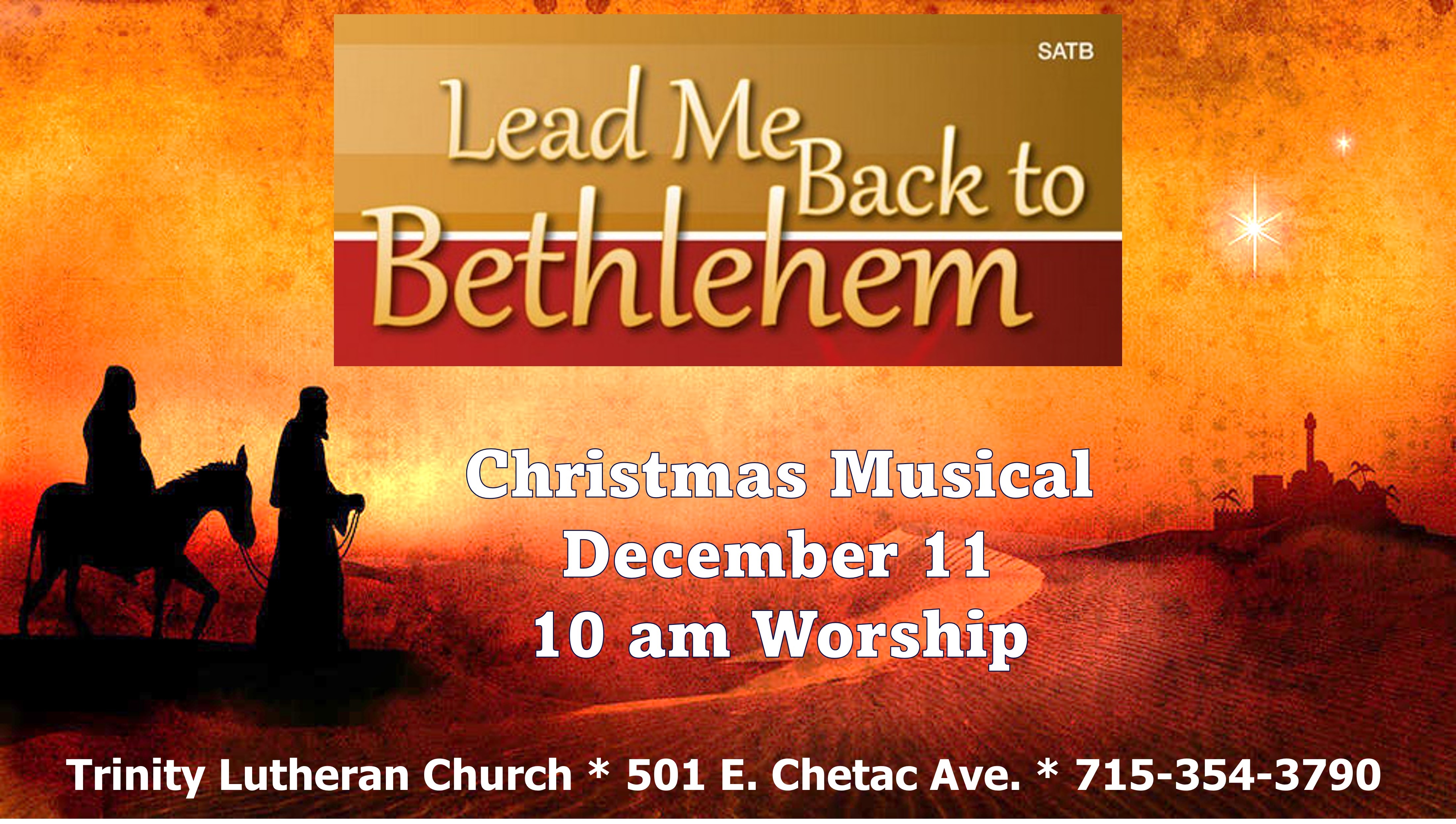 rinity Cantata Choir has been rehearsing the past two months on a Christmas musical, "Lead Me Back to Bethlehem." The musical will be performed on Sunday, December 11, at the 10 am worship service, with a Bake Sale before and after the service. Written by Pepper Choplin, it leads us through this Bethlehem story using carols, familiar folk songs with new seasonal texts, and original music and narrative. Rediscover the joy, peace, and love that Christmas offers to all of us.
Donations of cookies and other Christmas goodies are requested and may be dropped off at church Thursday, Dec 8, from 8 am - 3 pm (office hours), or Friday, Dec 9 at 10 am.
CHRISTMAS SERVICES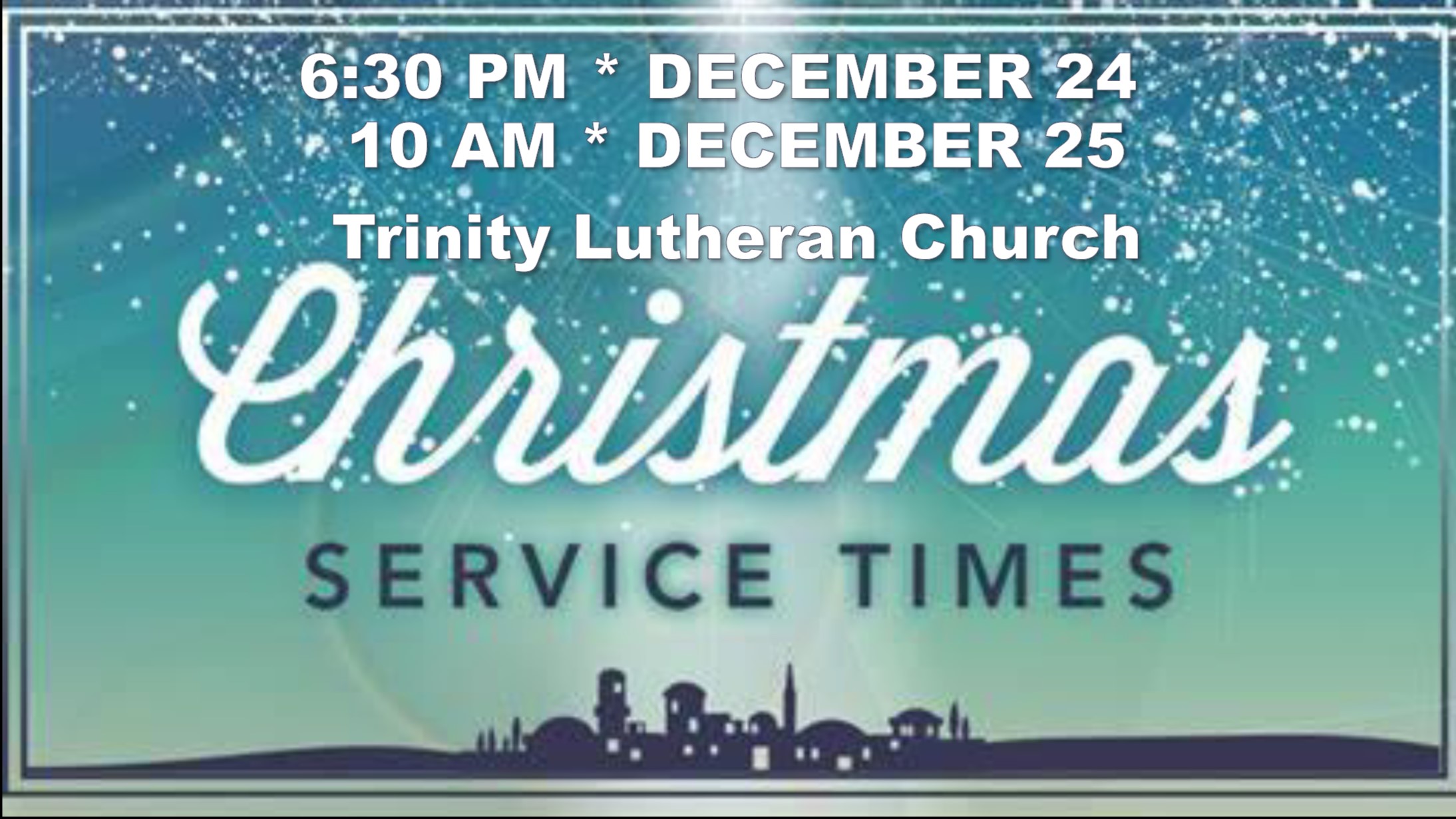 Christmas Eve service will be held at 6:30 pm, Saturday, December 24, with communion and candlelights.
Christmas Day service will be held at 10 am, Sunday, Decemebr 25, with communion.
LET'S HELP UKRAINE -- Urgent Request from Pastor Dan's Desk​​​​​​
My Dear Brothers and Sisters in Christ, many of you are aware of the situation evolving in Ukraine. Gelene and I served as missionaries in Ukraine, and we have learned that those with whom we ministered alongside are being directly impacted by these current events. As we see so many requests for money to support missions in Ukraine from various organizations, it is difficult to know which agency we should support. We have to ask the question, "Where will my money be used?"
Gelene and I served with Spiritual Orphans Network (SON), and I received an urgent request for donations from them this morning. SON ministers directly alongside Lutheran Churches in the regions involved in this conflict. I have been informed of the needs of the Lutheran Church in Ukraine, and the surrounding areas of Slovakia, Romania and Estonia. Monies that are going to Ukraine will support the Lutheran Churches as they minister to those who remain in the country: specifically, through the Gloria Ministry Social Kitchen which distributes over 200 meals per day, plus basic supplies, medicines and other necessities for survival to elderly and shut -in pensioners. SON is also supporting a congregation in their mission aiding refugees fleeing to safe border countries. The funding for the Lutheran Churches in the surrounding regions is needed to support these refugees with food, housing, etc. We have the assurance from SON Ministries, "In all cases, funds will only go to our trusted, long-term, partners."
Please prayerfully consider donating toward this urgent need. We will be holding special offerings for the next several weeks to aid our Lutheran churches "with boots on the ground" in their ministries to the Ukrainian people.
Send your donations to the church (P.O. Box 8, Birchwood, WI 54817) or use our PayPal link on our website -- TLC PayPal
In Christ, Pastor Dan