KINGDOM ROCK VBS REGISTRATIONS NOW OPEN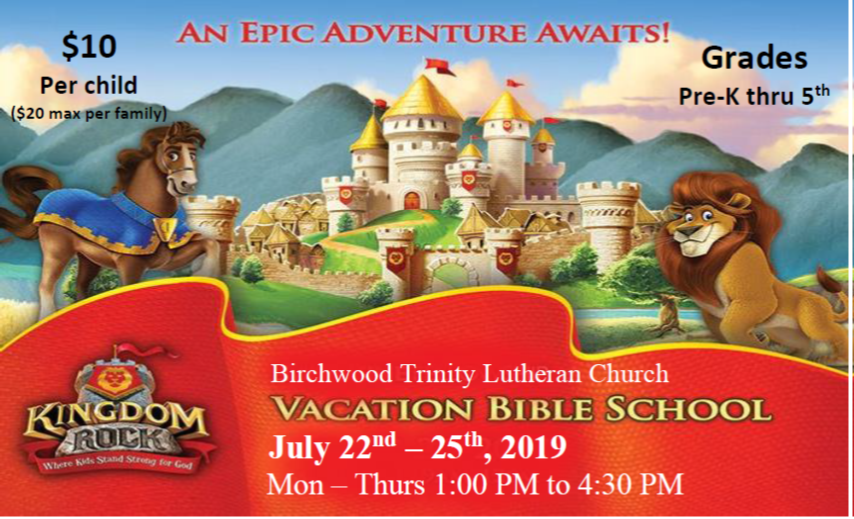 CALLING ALL KIDS! An Epic Adventure Awaits! Kingdom Rock VBS kicks off July 22-25, from 1 – 4:30 pm, at Trinity Lutheran Church, Birchwood. Open to kids Pre-K thru 5th grade, Kingdom Rock VBS empowers kids to stand strong for God. Here, God's victorious power isn't a fairy tale―it changes kids forever.
Kingdom Rock VBS is filled with incredible Bible-learning experiences, cool Sing and Play Rock Songs, tasty treats, fun games, and other activities that help faith flow into real life. At Kingdom Rock VBS, kids will meet new friends in their Royal Crews, see God's Word come alive, and see evidence of God in everyday life – something we call God Sightings.
VOLUNTEERS are needed to help, too. Can you help ONE day in the snack area? Games area? How about being a crew leader or help with crafts, music, or teaching Bible stories?
Call Ashley Beffa at (715) 790-1491, or email her at ashleybeffa@gmail.com.
To download a REGISTRATION FORM, click HERE or request one from the church office, (715) 354-3790.
To register ONLINE or Volunteer ONLINE, click HERE.​​
Journey in the Footsteps of Jesus - Israel Pilgrimage 2020
Call our office or contact Pastor Jack for details if interested. Below is the itinerary. This will be a life and faith changing experience! January 25-February 4, 2020. $4500/person. $500 deposit.
Below is the itinerary:
· Saturday, Jan 25, 2020 Minneapolis-St. Paul Int'l Airport Departure
· Sunday, Jan. 26, 2020 Morning arrival in Ben Gurion Airport. Elah Valley—David & Goliath. Negev & the Wilderness. Tel Beersheba. Overnight in Negev.
· Monday, Jan. 27 Masada. En Gedi Overview, Qumran of the Dead Sea Scrolls, Dead Sea, Jordan River—Joshua's Crossing & Baptismal. Overnight in Jericho.
· Tuesday, Jan 28 Capernaum, Mt. Beatitudes, Tel Dan, Caesarea Philippi, Boat Ride on Lake Galilee. Overnight in Galilee.
· Wednesday, Jan. 29 Mount Carmel, Caesarea, Megiddo/Armageddon, Nazareth Village. Overnight in Galilee
· Thursday, Jan 30 En Harod (Gideon's Spring), Samaria/Sebastae, Shechem (Nablus) & Jacob's Well, Shiloh. Overnight in Jerusalem.
· Friday, Jan. 31 Israel Museum, Yad Vashem Holocaust Memorial & Museum, Bethlehem, Sheperd's Field, Sabbath Evening Meal. Overnight in Jerusalem.
· Saturday, Feb 1 Mount of Olives, Garden of Gethsemane, Messianic Worship Service, Walk in the Old City. Overnight in Jerusalem.
· Sunday, Feb 2 Mt. Zion & Jewish Quarter, Western Wall, Southern Wall Excavations/Davidson Museum, City of David (Hezekiah's Tunnel+Pool of Siloam), Temple of Mounth Sifting Project. Overnight in Jerusalem.
· Monday, Feb 3 Garden Tomb, Jerusalem Seminary, Saxum Visitor Center, Yad HaShmona Biblical Garden, Jerusalem Center for Bible Translators, Yad HaShmona for Closing Meal.
· Tuesday, Feb 4 Early morning departure to USA.
SUMMER WORSHIP SERVICES STARTED MAY 26
Our traditional outdoor worship service at 8:30 am began on May 26. So bring your lawn chair and a jacket and come on out to the back of the church. In inclement weather, the 8:30 am service will be held in the Fellowship Hall. The 10 am worship service will continue to be held indoors.
Coffee Fellowship Time
Our regular coffee time expands a bit during the summer with coffee, breads, muffins, and fresh fruit served between the two worship services. So stay after the early service, or come early to the late service to stay connected with those who attend the different services.